One of the perils of traveling to speak in January is the weather. Who knows when you might get stuck in an airport someplace. That was not a problem this week as I was speaking close to home. I spoke at the Osher Lifelong Learning Institute at North Carolina State University – 8 miles from home. I enjoy traveling but it is nice speaking near home.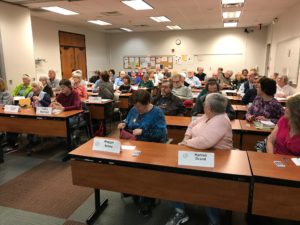 I often take a photo of the room where I will be speaking before anyone arrives and then send the photo to my colleagues and tell them no one showed up to hear me. I had planned on doing that on Monday but the room filled up quickly as the lecture was sold out. I guess people just wanted to learn about the history and evolution of the outhouse (my topic).
I have been invited back to present two lectures in the fall. One lecture is about the Women's Land Army and the other is about the Camp Meeting Movement. It will be interesting to see if those topics are as popular as outhouses.